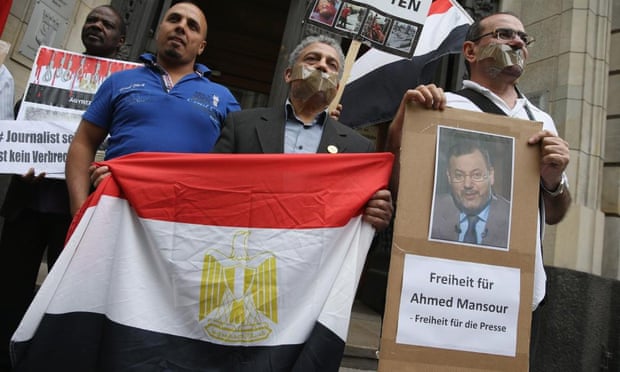 Ahmed Mansour, an Egyptian journalist with al-Jazeera, has been released without charge two days after he was detained in Berlin at Egypt's request.
Eissa Taibi, al-Jazeera's Berlin correspondent, said: "I do not have a lot of details about his release but the only thing I know is that he has been released and that his lawyer and al-Jazeera's lawyer were with him a short while ago."
Earlier on Monday the German government had played down the chances of Mansour being extradited to Egypt, citing concerns over the Egyptian legal process, including the imposition of group sentences.
Mansour, who has dual Egyptian and British citizenship, was arrested at Berlin's Tegel airport on Saturday while attempting to board a flight to Doha. Last year an Egyptian court convicted him in absentia of torturing a lawyer in Tahrir Square in 2011 and sentenced him to 15 years in prison. Mansour rejected the charges, calling them "a flimsy attempt at character assassination".
On Monday morning a group calling itself the German-Egyptian Union for Democracy gathered around 100 protesters outside the Berlin jail where Mansour was being detained. They held signs which read: "Freedom for Ahmed Mansour. Freedom for Egypt. Freedom for journalists."
MPs across Germany's main political parties had voiced concern over his detention. Among the most outspoken was the opposition Green party's Franziska Brantner, who said in a statement on her website: "The Berlin judiciary should under no circumstances allow itself to become a willing tool of the capricious regime in Cairo."
Egypt accuses both Qatar and al-Jazeera of supporting the Muslim Brotherhood, which was branded a terrorist organisation after the military deposed Mohamed Morsi as president in 2013. Three journalists with al-Jazeera English spent more than 400 days in prison following their arrest in Cairo in late 2013. Their trial was regarded internationally as a farce.
Angela Merkel was criticised by opposition parties and rights groups for hosting the Egyptian president, Abdel Fatah al-Sisi, on a state visit this month. During the visit, the German industrial group Siemens signed an €8bn deal with Egypt to supply gas and wind power plants.
Since Sisi took power in 2013 and won a presidential election the following year, courts in Egypt have issued scores of death sentences against Muslim Brotherhood members including the group's leadership.
- Guardian
FOLLOW NEW AFRICA BUSINESS NEWS ON FACEBOOK @ New Africa Business News.com