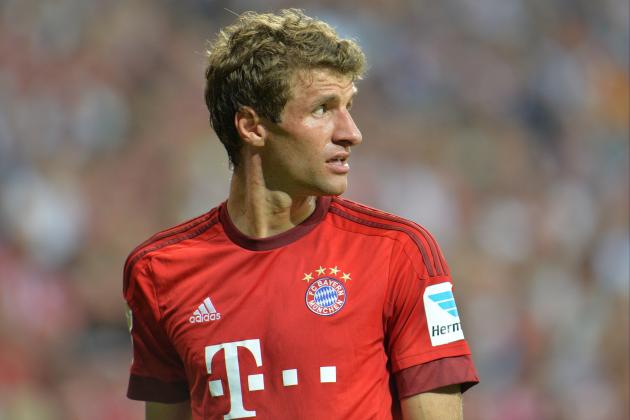 Rumours are linking Bayern Munich star Thomas Muller with a move to Manchester United, with the Daily Express' John Richardson the latest to claim a transfer could materialise before the end of the summer window.
Richardson claims the Germany international has told friends he would open to the move, despite club chief executive Karl-Heinz Rummenigge's insistence any transfer is out of the question:
While manager Pep Guardiola, who has a number of fall outs with Muller, would be prepared to cash in chief executive Karl-Heinz Rummenigge is adamant that the forward is staying put. He sees it as a battle of wills between the Bundesliga and the cash rich Premier League insisting: "The Bundesliga has to be careful not to fall further behind. We would be out of our minds to sell Muller."

But Muller has confided in friends that he is interested in a move to United alongside Schweinsteiger who has been delighted with his Old Trafford welcome. Muller knows that his wages would enjoy a hefty rise.
The rumour wasn't received very well on social media, with Sky Sports' Peter Hall having difficulty believing it and Sport Witness wondering how the Sunday Express would know what the forward did and did not say to his friends:
No, we have absolutely no idea how The Sunday Express would know what Thomas Muller had confided in friends.

— Sport Witness (@Sport_Witness) August 16, 2015
The 25-year-old has spent the bulk of his career with the Bavarians, joining their youth setup before making his senior debut in 2008. He has since emerged as one of the club's most pivotal players and played a huge role in Germany's 2014 World Cup triumph.
It's hard to define Muller as a player. The forward has a free role on the pitch, swerving all over midfield and contributing in the box. He's not the type of player who dazzles when it comes to statistics―he has never scored more than 13 goals in a single Bundesliga campaign, per WhoScored.com―but he opens up tons of space for his team-mates.
Former team-mate Bastian Schweinsteiger joined the Red Devils earlier this summer, and from a financial point of view, it's possible to build a case in favour of the move. Muller has won just about everything there is to win with Bayern, and thanks to the new Premier League TV deal, a club like United can blow just about anyone out of the water when it comes to wages.
But it's very difficult to envision any scenario in which the Bavarians would even entertain a sale. Muller is hugely important to the team's attack, particularly given the injury struggles of Arjen Robben and Franck Ribery, who both missed time during the 2014-15 campaign.
Money seems to be the only incentive United could potentially offer, making it difficult to envision this transfer coming to fruition.
Loan Deal for
Marouane

Fellaini

?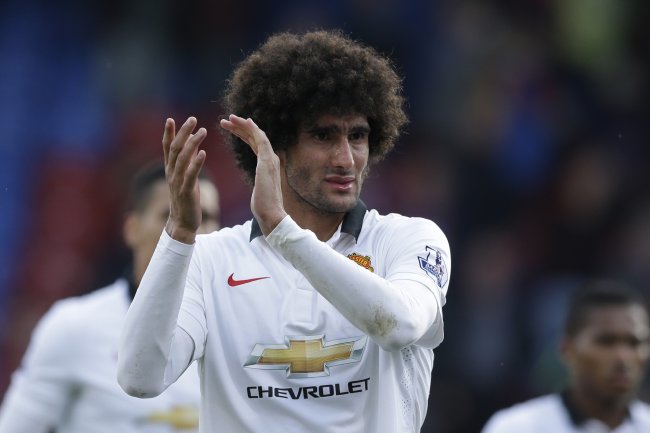 Matt Dunham/Associated Press
According to Turkish sports outlet Fanatik (h/t Metro's Will Giles) Besiktas are ready to present United manager Louis van Gaal with a loan offer for Belgium international Marouane Fellaini.
The former Everton star was one of the Red Devils' key performers late in the 2014-15 season but is unlikely to retain his spot in the starting XI following the arrivals of Schweinsteiger and Morgan Schneiderlin, and as a result, there are question marks surrounding his future.
A loan move could be an option, although Bleacher Report's Rob Blanchette thinks there's space in the squad for a player like Fellaini:
United have always had a squad full of unfashionable players & we utilise their work. There is room for players like Young & Fellaini. #MUFC

— Rob B. (@_Rob_B) August 10, 2015
The big Belgian is the opposite of a finesse player, using his size and considerable power to bulldoze his way past opponents. He's a battering ram on the pitch and a threat to score in the air, and his versatility means he can play both directly behind the striker or deeper in midfield.
Fellaini may not be a starter over the likes of Schneiderlin and Schweinsteiger, but he's certainly a useful player with value. He provides excellent depth and can be a huge weapon off the bench, particularly if the team is chasing a late goal and looking to fire in as many crosses as possible.
There's little to no value in a loan deal, and Fellaini provides too much value for the Red Devils to allow him to leave on the cheap. Robin van Persie and Nani may have left Old Trafford for Turkey this summer, but their situations were entirely different.
Fellaini still has a role to play for United, so until a team is willing to pay a significant fee to acquire him outright, expect the Belgian to stick around at Old Trafford.
- Bleacher Report
FOLLOW NEW AFRICA DAILY NEWS ON FACEBOOK @ New Africa Daily News.com